Blue Guru Games Execs Speak With VegasSlotsOnline News
Blue Guru Games Execs Speak With VegasSlotsOnline News
Blue Guru Games will soon add Book of Thieves to its portfolio of narrative-focused games
Dahl says the company tries to build a great atmosphere through mechanics, theme, and music
Hassall believes there is plenty of room for innovation by thinking of history in a different way
After Book of Thieves' April release, the company is launching a game with  a family of otters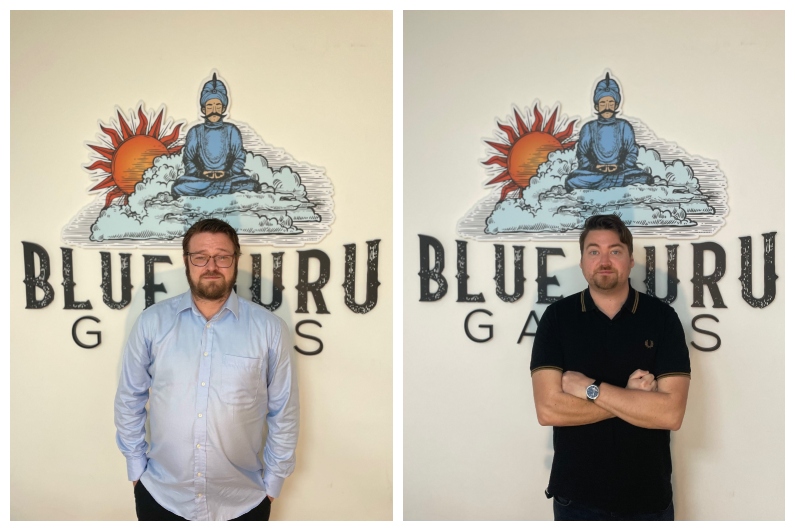 Founded in 2021, Blue Guru Games prides itself on its "passion for great stories and games." The company has quickly made a name for itself in the slot space by combining exciting mechanics with quirky narratives that offer something a little bit different.
a medieval-themed game with plenty of exciting features
The supplier's upcoming release is Book of Thieves, a medieval-themed game with plenty of exciting features. Among other elements, it offers expanding symbols in the base game and the free spins bonus as players navigate the story of a thief called Rogue who accidentally steals from a witch.
Last week, the game made it into VegasSlotsOnline News' Slots of the Week. As we count down to the game's release in April, VSO News spoke with two members of the Blue Guru Games team: Halvor Dahl, head of games, and Kristian Hassall, commercial manager.
Tell us a bit about yourselves and how you started at Blue Guru Games.
Halvor Dahl: I've been in this industry for about 11 years. I worked initially on the B2C side for casinos before switching to B2B about five years ago. I was approached by the CEO and founder of Blue Guru to join in early 2021. Basically, I'm in charge of the day-to-day game production.
Kristian Hassall: I began working for Bet365 and moved to their Gibraltar office to get involved in casino before heading to Malta to become head of VIP for Ellmount. I worked for a few different companies after that including IGT and Dreamtech Gaming prior to reaching Blue Guru Games on the marketing side.
What would you say is the key to creating your own style and standing out in the industry as a new company?
HD: From the get-go, we wanted to try to do a bit more than just standard games. We wanted to create a lot of story-based games – ones that are not just driven by the mechanic but utilize the mechanic to tell a story.
we try to include more abnormal historical stories
We focus quite a lot on history, which is quite typical, but then we try to include more abnormal historical stories and alternative takes on it. Instead of making an Egyptian game for example, we made an Egyptian game set in modern times with Curse of the Mummies. We also try to build a really great atmosphere through the mechanic, the theme, and the music.
KH: We all have different passions, from music to art and storytelling, and we get to put those passions into our work at Blue Guru Games. That means that we don't just set the theme and that's it, we try to create a narrative to reflect the story, then there is the music and the art, and we have to tie it all in together to make sure it works.
Is there pressure to keep pursuing the most advanced slots technology, or is it better just to focus on getting the simple stuff right?
HD: To be honest, I felt like we played it a little too safe with the mechanics on those first titles. It's the sensible choice but it's hard to make the games stand out. We have some games in the pipeline for the next few months that are a lot more complex.
I think it's important to have a bit of both. Many studios do really well with simple mechanics by just making it a really good experience. I think we will see a lot more diversity in the future offering something for everyone.
KH: I agree. I don't see it as limiting. You have so many providers trying to use the traditional mechanics in the most creative ways they can. But then it's also really exciting to see providers come out with mechanics that have never been seen before.
You have some really creative ideas such as Leprechaun Heist and Napoloean vs Rabbits. Do you feel like it's getting harder to think of new ideas in this saturated market?
HD: I think it's still easy to come up with new ideas. However, the challenge comes from creating that vision. For Leprechaun Heist, we didn't want to go down the traditional St. Paddy's games design of Leprechauns and gold pots. Similar with the soundtrack, we wanted more of a bank robbery feel to it. As a team, it was quite easy to come up with the idea of the theme but it's harder to tie everything together like this.
there's actually a lot of scope for new ideas
KH: This ties back to the storytelling aspect. It can be quite saturated if everyone is doing the theme of Egypt or Greece. But if you think of how many stories and legends are within those themes, there's actually a lot of scope for new ideas.
Can you explain a bit about the Slots of the Week-featured Book of Thieves and why our readers should give it a go?
HD: It's a "book of" game so it includes those features players know and love, such as expanding symbols both in the base game and in the free spins. In the base game you have selected symbols that are your chosen expanding symbols for the spin. If the chosen symbols land then they expand to cover their reels.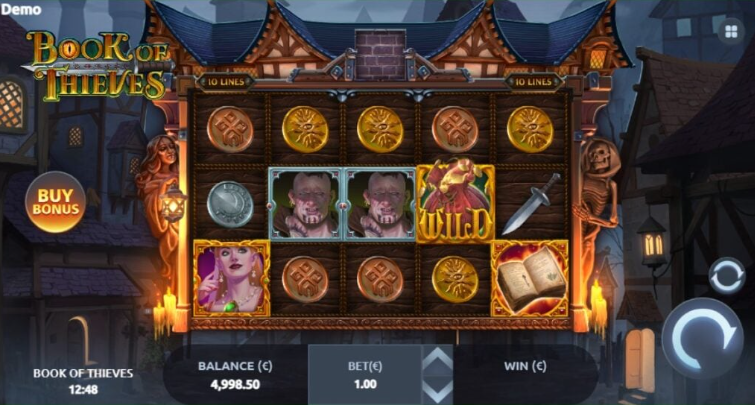 You can get ten free spins by landing three or more scatter symbols. Then, as many as three symbols are chosen at random at the start of each free spin. These will be the special expanding symbols and will take turns expanding if they can form a win.
In addition, there is also the buy bonus, which provides access to the free spins bonus round. Players can buy the feature for 70 times the bet.
What's next for Blue Guru Games?
HD: Leprechaun Heist goes live this week. Then after that, we have Book of Thieves in April. We have a busy schedule of releases this year. Our next game after Book of Thieves follows a family of otters as they clear up urchins. We really think it could be our best game to date. In the second half of the year, we should have a few more games on the way.
KH: I love otters. If you want to know the story behind that game, otters do an amazing job of clearing up urchins which destroy the kelp in the sea. It's a perfect example of how all of our games have some historical or factual basis.